Denver下大暴風雪了...超誇張的~~文末附一張Mike同學家裡樓下腳踏車被淹埋的照片 XDDD
As far as snow is concerned, this March has been all hype and no white.
But with forecasters calling for the month to roar out on the tail of a storm threatening to bury Denver in 11 to 19 inches of snow starting today, the Colorado Department of Transportation is ready to roll.
Late Tuesday afternoon, the National Weather Service office in Boulder issued a winter-storm warning effective until 6 a.m. Friday for a weather system on the Front Range.
Snow totals in the foothills and near the Palmer Divide could top 2 feet.
National Weather Service meteorologist Frank Benton said most people will wake to light flurries today, with snowfall intensifying throughout the day until it reaches as much as an inch an hour.
CDOT's trucks were ready to go earlier this week, but the predicted storm — consistent with Colorado's fickle weather patterns — never delivered.
CDOT stayed patient, and spokeswoman Mindy Crane said about 80 trucks were ready to keep metro highways clear for the latest storm.
Drivers need to do their part, however, she said
"This is likely going to be a very wet and heavy snowstorm," she said. "We want motorists to remember their winter-driving habits."
Snow is expected statewide, with near-blizzard conditions because of high winds in the central mountains and on the Eastern Plains. Travelers should check road conditions before they leave home and should plan to spend extra time on the road, Crane said.
Afternoon woes
The flakes will probably wreak the most havoc on the afternoon commute.
"I would anticipate people look out the window early afternoon, then decide they need to go home," Benton said.
Winds gusting as high as 40 mph could make drifting snow a hazard as well, especially on the roads, where visibility is a major issue.
The storm should taper off early Friday.
Alan Martinez, a 14-year CDOT highway maintenance veteran in Golden, said he and his team focus on major traffic arteries during major storms. For him, that includes Interstate 70 and C-470.
Martinez said he will have five trucks all running at the same time in a wedge formation, which clears the roads quickly and keeps traffic safely behind them.
"We're not trying to be a hindrance to (drivers)," he said. "We're trying to get them to where they want to go safely."
來源:
http://www.denverpost.com/commented/ci_11997637?source=commented
看的出是腳踏車嗎?? XD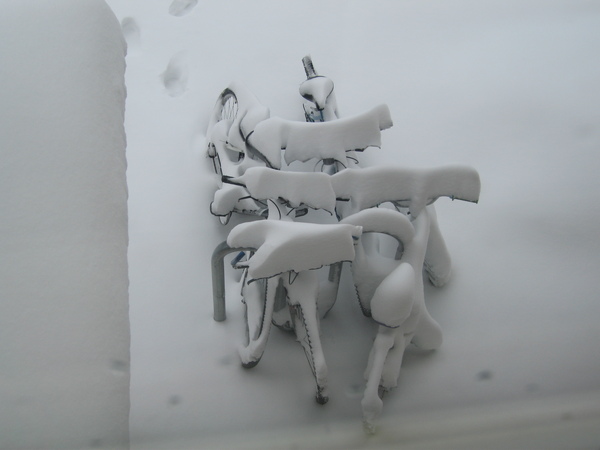 這樣停車位的線在哪裡都看不到了 XD